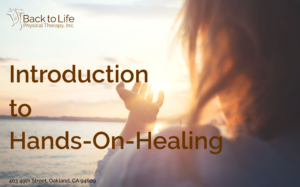 Are you interested in learning to heal yourself and others? Want to experience your healing ability and immediately start using it in your daily life?
Come to this introduction class and discover how to ground, and center yourself with hands-on-healing.
Learn a few simple Healing Touch and Reiki techniques that are very effective for relief of physical pain, calming emotional trauma and stress.
This class is for everyone. This is an excellent opportunity for dentists, massage therapists, acupuncturists, estheticians, yoga teachers, phlebotomists, and anyone already working with the public, to enhance their hands-on practice.
Instructor: Jeri Lawson Healing Touch and Reiki Practitioner
SPACE IS LIMITED RSVP with us by emailing Classes@BackToLife.net