 Stay at Home with Back to Life
Now offering online events via Zoom

Free Talk: Introduction to the Alexander Technique
January 21, 2018 @ 2:00 pm

-

3:00 pm

PST

Free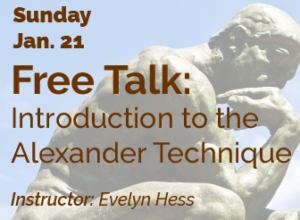 Learn how to eliminate back and any other musculoskeletal pain, while moving with ease, lightness, and grace. You will gain awareness of your habits in posture and movement, and learn how to shed those harmful habits. You will then use your body effortlessly, the way it's designed to be used – something many of us haven't done since early childhood!
The Alexander Technique teaches you how to release the muscle tension and misuse that cause you pain by integrating the connection between your mind and body. The result is your body works as it should -with less effort and pain, and a feeling of lightness. You'll discover that you can engage in activities you previously thought were off limits while feeling younger and stronger. You will also learn how truly good posture and ideal movement is actually easier, freer and much more comfortable than "holding" yourself upright or working to maintain a position.
This group class incorporates one-on-one instruction. Evelyn will go over principles of the Alexander Technique, then lead the class in simple, everyday activities (sitting and standing, walking, etc.), with individual "hands-on" work. After the first class, participants will have the opportunity to address challenges they have in their interests or daily lives (playing an instrument, driving, working on a computer, etc.).
About Evelyn Hess
Evelyn Hess is an AmSAT certified Alexander Technique teacher and has been teaching groups and individuals for over 13 years. Her students include accomplished equestrians, musicians, and singers, as well as everyday people who want to perform better, recover from or avoid injury, or are in chronic pain, especially back and neck pain.
Email Classes@BacktoLife.net to RSVP for this free class!
Event Cancellation & Refund Policy
Back to Life (BTL) reserves the right to refuse/cancel registrations. If BTL refuses a registration, registrants will be offered a refund.
Event Cancellation by BTL
BTL reserves the right to cancel an event due to low enrollment, poor/unhealthy air quality or other circumstances which would make the event non-viable. If BTL cancels an event, registrants will be offered a full refund. Should circumstances arise that result in the postponement of an event, registrants will have the option to either receive a full refund or transfer registration to the same event at the new, future date.
Registration Cancellation by Participant
Unless specifically stated in registration materials, the deadline to receive a refund for an individual ticket is two business days (48 hours) before the event.
Cancellations received after the stated deadline will not be eligible for a refund. Refunds will not be available for registrants who choose not to attend an event. Cancellations will be accepted in writing only to Office@BacktoLife.net and must be received by the stated cancellation deadline. All refund requests must be made by the attendee or credit card holder. Refund requests must include the name of the attendee and/or transaction number. Refunds will be issued back to the card used for purchase.
These above policies apply to all BTL events unless otherwise noted in the corresponding event materials. Please read all individual event information thoroughly.
Late Registration
Unless specifically stated on registration materials, on-site registrants are subject to an additional $5.00 administrative fee.